September 2, 2023 – Artists Kent Ness + Josh Jacobson will start painting Downtown's newest murals together: Moving Forward conceived by Ness + Prairie Petals: Lilies in Luminous Frames conceived by Jacobson. 
Located on the south-facing walls of Dream's building, people will be welcomed by the vivid colour as they cross the Sid Buckwold Bridge to enter the district! Scaffolding will be set in place, outlines created, and the first colours painted… Come watch the progress from Saturday, September 2 until it's finished (September + October).
Thanks kindly to Dream for joining Downtown Saskatoon to make this mural possible.
Stay tuned for artist write-ups and photos.
'Moving Forward'  Mural by Kent Ness
My objective with this mural is to highlight and honor the rich history of indigenous peoples in the province of Saskatchewan. As a Métis artist, I see this as a great opportunity to promote inclusivity in a prominent and highly visible location within our downtown. I hope to create a space whereby indigenous people can feel proud of their heritage, celebrated, and honored by our city – especially in the context of today's sociopolitical landscape. Saskatchewan has the second highest proportion of First Nations and Metis people in all of Canada and the history of these indigenous populations is a central pillar in the story of "Saskatoon".
The mural depicts two Plains Cree riders on horseback, moving across the grasslands with a prairie sunset in the background. The staggered perspectives of the riders illustrate our movement as a collective society, from past to future; the rider at the rear is looking back over his shoulder – into the past – suggesting that with forward movement, we also acknowledge the deep and rich foundation that existed on this land before the great city of Saskatoon. While forward motion is a key theme in reconciliation, it is equally critical to celebrate and pay respects to our past. Wildflowers are the overarching theme between the two murals, and I've chosen to highlight a few that hold special significance to the indigenous people of Saskatchewan, utilizing them to create a border that serves as a window to times past. The messages that I hope to convey are ones of pride, strength, progression, and wonder; to create a mural that people of all races and from.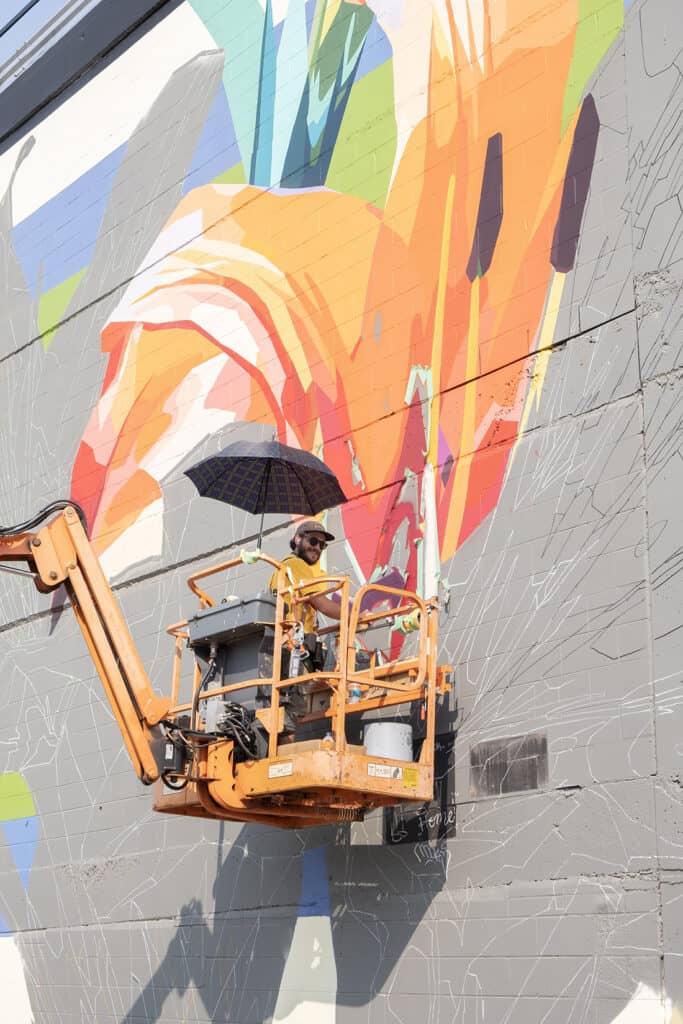 "Prairie Petals: Lilies in Luminous Frames"  Mural by Josh Jacobson
This mural design celebrates the iconic prairie lilies, depicted using a color-blocking technique that evokes the intricate patterns of stained glass. This approach seamlessly marries a contemporary feel with a representational essence. Born and raised in Saskatoon, my connection to the prairies' visual and cultural richness deeply influences the artwork. Infusing elements of Graffuturism and Russian Futurism, the mural radiates contemporary dynamism.
Rationale:
The mural's design places the lilies against a backdrop featuring a rectangular frame with abstract strokes, adding depth and visual intrigue. Acting as a filter, these strokes subtly alter the underlying colors, enhancing the composition's dynamism and layered sophistication. This embodiment represents Saskatchewan's natural splendor and cultural heritage, with the prairie lilies standing as a poignant representation of our provincial identity. 
Through this unique stylistic approach, not only is the enchantment of the lilies accentuated, but a fresh, modern perspective on a beloved symbol is offered. With this piece, I aspire to strengthen the Saskatoon community's ties to its natural and cultural roots, intertwining traditional prairie imagery with avant-garde artistic motifs to resonate deeply with residents.