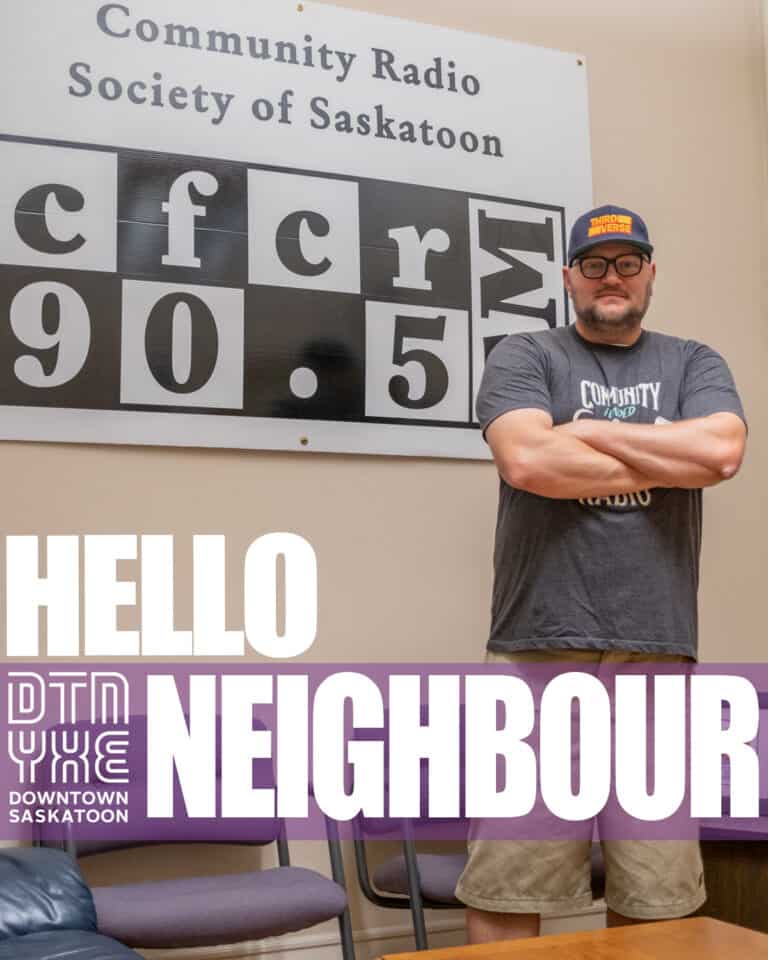 Hello, my name is Chaps and I host a rap radio show on CFCR 90.FM in the heart of Downtown Saskatoon. I have been hosting my show, Third Verse since 1996. A lot has changed in the Downtown over the years and it has been fun to watch Downtown grow and reflect the ever-changing landscape that is Saskatoon. 
As a volunteer show host on CFCR, I have seen my role evolve over the years. In the beginning, it was all about the music, it still is first and foremost, but I see myself evolving as a curator and historian within the city's vibrant hip-hop scene and through my radio show. My show has a wide world reach that is ever-expanding. It really is humbling to think that it all started Downtown. I love the community that CFCR and my radio show "Third Verse" has fostered over the past 27 years. 
Saskatoon's Downtown is special because it is ours. It belongs to the citizens of Saskatoon and it is ours to make a vibrant beautiful city with. It allows us to be ourselves and find ourselves reflected within the culture and community that creates it. The Downtown is special because of the people within it. 
I love the green spaces of Downtown and being able to stroll through the river valley with my partner and dogs on a cool crisp fall day. I love the variety of restaurants that the Downtown has to offer. 
Saskatoon is special to me because it is an "underdog" city. That "underdog" spirit is embedded throughout the city's rich cultural music and arts scene. It is freeing in the sense that you can 100% be yourself and authenticity always rises to the top.
I would like to remind everyone that CFCR's Annual Funding Drive "FM-Phasis" runs from September 16th to 29th. You can win Gift Certificates, prizes, and cool limited edition CFCR swag in trade for your helpful donation to Saskatoon Community Radio.